When setting up a campaign on Facebook Ads, you may have been surprised by a campaign option in the form of Advantage+ campaigns. Facebook claim this new campaign creation type is designed to streamline their proven processes by following recommended settings. In this article, we'll briefly run over what Advantage+ campaigns are, their benefits and drawbacks, and if they're for you.
What are Advantage+ Campaigns?
Advantage+ Campaigns are Facebook Ads' new 'simplified' campaign model for conversion campaigns. Essentially, they are an easier way to set up conversion campaigns, reducing the amount of manual input required by allowing Facebook to automatically choose tailored campaign settings on your behalf.
Unlike traditional conversion campaigns on Facebook Ads, an Advantage+ Campaign combines the campaign, ad set, and ad creation stages into one merged stage. They also remove manual input on settings such as bidding strategy and optimisation methods, as well as pushing advertisers towards utilising Dynamic Ads. They're not currently available to all advertisers, but from our knowledge, Facebook are continuously rolling this out to more and more advertisers.
Advantage+ Campaigns aren't yet acting as a full replacement for the manual (existing) creation process, as Facebook still allows you to choose your preference.
How to set-up Advantage+ Campaigns?
Advantage+ Campaigns can be set up via Facebook's Ads Manager. If you go to create a campaign, choose 'Conversions' as the campaign objective. From here, you'll see the option for an Advantage+ Campaign (if you're a selected advertiser with current access to this new feature).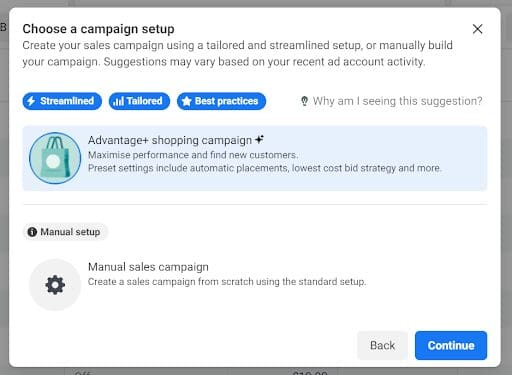 By continuing, Facebook will prompt you to complete the usual set-up stages in one go, such as campaign name, ad set targeting, and ad copy. Of course, this will include fewer steps than usual, due to the nature of Advantage+.
Benefits of Advantage+ Campaigns?
Facebook describes Advantage+ campaigns as being 'Streamlined', 'Proven', and 'Recommended', meaning…
Streamlined – They have a simplified setup to help advertisers create campaigns in fewer steps.


Proven – They have helped businesses create high-performing conversion campaigns when they adopted the Advantage+ recommended and optimised settings.


Recommended – They have preset settings that are optimsied and recommended towards certain businesses.

Overall, they'll allow you to simplify your campaign creation process, and reduce the amount of manual work needed to get your ads up and running.
Drawbacks of Advantage+ Campaigns?
Although Advantage+ Campaigns may simplify the conversion campaign creation process on Facebook Ads, this may not be ideal for many advertisers who want more input in the whole process. For example, having Facebook automatically choose the optimisation method for you.
This loss of freedom can be detrimental to many advertisers' goals and aims. In addition, the one-window setup process isn't ideal for those who want to create their campaigns in stages, rather than in one big chunk.
Who are they for?
If you have any experience whatsoever with Facebook Ads, an Advantage+ Campaign may not be for you…
From what we gather, they're are aimed towards advertisers with little or no prior experience with Facebook Ads, allowing them to skip the stages which aren't always so straightforward. Although they're great for that purpose, and to enable less-experienced advertisers to join the pay-per-click landscape, they're not all too useful for anyone with existing experience.
They limit your options within creating your ads, giving you less control over what you optimise towards. Therefore, they may be worth giving a miss for many.
As mentioned, Advantage+ Campaigns are not yet available for all advertisers, therefore do ensure to check they're an option in your ad account before deciding to exclusively roll with them.
Our thoughts…
Advantage+ Campaigns introduce a simplified, 'all-in-one' campaign creation process that was long needed on Facebook Ads. They're a great introduction for less-experienced advertisers, who may be looking to test the waters using Facebook Ads. However, we'll personally be passing on these campaigns at the current moment, as they limit some of our more advanced campaign options.
We see a lot of similarities between Facebook Ads' Advantage+ Campaigns and Google Ads' Performance Max campaigns. If Advantage+ Campaigns are of interest to you, be sure to check out our editorial 'What are Performance Max Campaigns?' for an introduction to Google Ads' alternative.
Alternatively, feel free to get in touch for a no obligation discussion about your options and what is best suited for your business.