Packing everything you want to say into your Google Ads can be challenging.
With Google's Expanded Text Ads, you are constrained to three headlines of 30 characters and a description of 90… that's never enough to get your message across.
This often leads to reams and reams of ads with soul destroying boring ad copy as marketers desperately attempt to condense their message down as much as possible.
It's not all doom and gloom – say hello to Google Ads ad extensions.
They're reasonably well known, but they aren't used nearly as much as they should. These little gems allow you to increase the description of what both your products and website has to offer to a potential customer.
They're located in the 'Ads & extensions' tab in the Google Ads user interface. In there, you'll find a whole host of ad extensions to better showcase your product offering.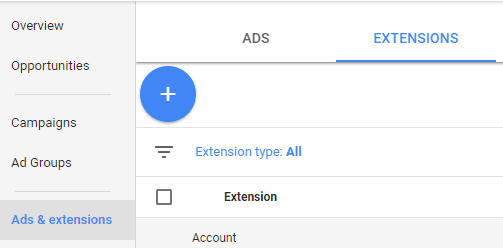 Sitelink Extensions
One of the most commonly used ad extensions are sitelinks. Chances are, you have seen these already.
Sitelinks show up just below your basic expanded text ad and direct users to particular a landing page on your site.

You have the option of adding up to 8 sitelinks, of which 2-6 links will show at any one time for desktop and all 8 links on mobile or tablet, via the carousel format.
Sitelinks are made up of 3 elements, a URL, a title and description. The description isn't required, but it is an opportunity for you to pack more information into your ads, and give people a reason to click.
There are many benefits to sitelinks:
They help boost your Quality Score
You gain more ad space for no extra cost
You can send people to multiple landing pages for relevancy
They improve your click through rates (CTR) by a whopping 10-20%
Callout Extensions
This extension is like a reduced version of the sitelink extension. Unlike sitelinks, you only have the ability to display a headline with 25 characters and there isn't any option to link it back to your website.

Imagine callouts like an enthusiastic salesman giving you all the unique selling points of your company in quick succession. You'll want to make sure these are concrete and specific information detailing why your business is better than any other. It could be that you offer next day delivery, or you're the market leader of your industry. Whatever makes you stand out from the crowd – this is where you should be telling people those key points.
Done well, they should fit really nicely up next to your text ad and are a great way to increase your message, keeping with the original ad format.
Structured Snippets
Fairly similar to Callouts, structured snippets allow you to highlight specific aspects of your services or products you sell. You decide what type of information your customers might find valuable and populate lists with predefined headers, such as product or service category.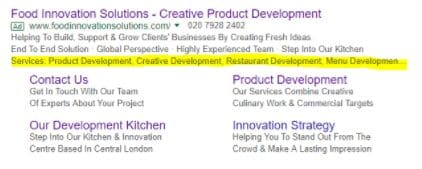 Structured snippets help customers find out more about your products and services directly from your ad. By adding a preview of your product range, customers who click through should have higher intent to buy due to their knowledge.
Call Extensions
Call extensions are one of the many innovations in PPC geared directly towards mobile.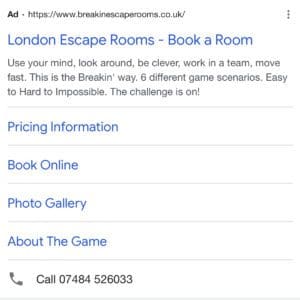 A simple press of the call extension will lead you directly into a call with someone in the business who can help.
One of our favourite features about call extensions is the ability to track how many people click this extension and track the usage as a conversion.
Call extensions can help lift your CTR by nearly 8% and allow customers to quickly get on conversation with you.
Lead Form Extensions
Another great ad extension for any lead-based business, this adds a section to your ad for the customer to input their details directly through the ad.
There are a series of questions you can choose to add to your form, but after a customer fills it out, you can download the results.
There are a few requirements to be able to use Lead Form extensions.
Location Extensions

Location extensions are essential if your business has a physical storefront and you're looking to drive foot traffic up.
They are also very worthwhile if you are wanting to focus on attract more local custom.
As with all ad extensions, they can help you by allowing you gain more ad space on the search engine results page.
Affiliate Location Extensions
The premise of Affiliate Location extensions is pretty similar to the Location Extension but is useful for businesses that sell through other retailers. Instead of putting your location, you show the customer the locations of nearby stores that sell your products.
Both types of ad extensions are ideal for driving traffic to your physical store, as well as giving the customer an easy way to find your products.
Review Extensions

Let's face it – you're great, but what use is that if people don't know?
Adding in review extensions allows you to showcase just how great you are.
With review ad extensions, you're able to share positive write-ups, awards or third party rankings, giving potential customers one more reason to click your ad.
Some users have found that they can get a 66% increase CTR by adopting review extensions.
Price extensions
Price extensions are ideal for the ecommerce world. This extension allows you to showcase your products and services, with the price next to them.

Price ad extensions will also act to reduce your irrelevant clicks, which in turn saves money and improves your conversion rates.
Each product can link to its own landing page, making the amount of clicks needed for a user to convert lower and therefore more likely to convert.
App extensions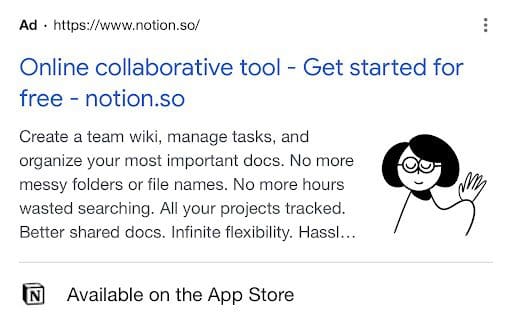 If you're promoting an app, you MUST use app ad extensions.
App extensions can help you increase the number of downloads you receive, as they can allow customers to either click through to your site or download your app directly from their associated app store.
For those with apps, it is a great extension as it allows you to showcase your app and product simultaneously, allowing users to get to their intended location quickly.
It's also worth noting that you're able to target specific devices, so can set it up to only show on mobile instead of tablet or only for Apple instead of Android if your app is developed with a more specific audience in mind.
Promotion extensions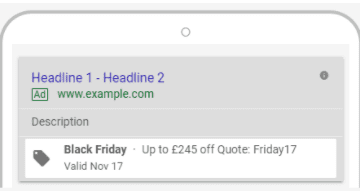 With promotion extensions, you are able to display a noticeable price tag icon beneath your ad, which highlights the promotion that you are currently running.
They are particularly helpful for holiday events like Black Friday, Cyber Monday and Christmas, and all they require to be set up is a working promo code that people can use at the checkout.
Currently, promotion extensions are outperforming both sitelink and price extensions in terms of CTR with a 10% increase on normal ads.
CTR isn't the only thing that promotion ads help with however, as they can also improve your relevancy, by highlighting holidays like Black Friday and therefore can increase your quality score.
Final Thoughts
Google's ad extensions are there to help protect and improve your conversion rates.
They allow users to gain more knowledge about your company, without needing to click anywhere.
It should help with pre-qualifying your paid traffic as by putting more information in your ads, you can detract customers who are looking for something you don't offer, reducing wasted spend.
Plus, it should also help with increasing clicks from the right people who might click on your ad over your competitors as you are telling them more about your offering.
Not only do they cut the amount of clicks users have to go through in order to reach their intended purpose, you have more characters to play around with in your ad creation, giving you much more power to describe your product and service offerings and most importantly take more advertising space on the SERP.
For the time it takes to set up extensions and the rewards they can provide, it isn't a matter of 'should we' implement them, but 'which ones' should we implement.