With over 200 million live websites across the world, all fighting over 5.6 billion searches per day, the internet is a competitive place. So, how do you get your site and business noticed? In short, there are two key ways; you can either buy your way to the top (via PPC), or spend hours and hours working your way to the top (via SEO). In this article, we'll be exploring what PPC and SEO are, alongside their pros & cons, differences, and our best practice recommendations.
What is PPC?
Pay-per-click (PPC) is a popular form of paid marketing that exists on the internet, in which advertisers (businesses from across the world) get the opportunity to display their ads directly in front of potential customers on the search engine results page, as well as other websites.
The name pay-per-click means what it says: you pay per each click that your ad receives. For example, if you receive 0 clicks, you'll pay nothing, even if your ad has been seen over a thousand times.
This is appealing for both big and small advertisers alike, but in particular small-medium businesses who are keen on the low barrier to entry… there is no need to pay an outright sum for running a time-limited ad, as in traditional marketing methods such as print advertising. In addition to this low barrier to entry, performance can also be accurately measured and reported due to advanced online analytics tools, such as Google Analytics, which connects directly with Google Ads.
There are a range of pay-per-click ad types, all of which vary depending on the host platform. One of the most popular ad types are Paid Search Ads. These appear when people search for specific phrases or words (chosen by the advertiser) on search engines such as Google.
Paid Search enables advertisers to appear above the organic (non-paid) search results, which is a massive bonus when it comes to stealing your competitors' limelight.
Another useful form of pay-per-click advertising is called Remarketing. This can be a super useful form of PPC that enables you to retarget ads to lost leads and customers that have visited your site but not yet converted, and bring them further down the sales funnel towards a conversion.
The ultimate goal of pay-per-click advertising is to send a user on the internet through to your website or app, where they can complete a conversion – such as submitting a lead form, purchasing a product, or simply finding out more about your brand through your website.
Pros of PPC
Visibility
PPC enables you to buy your way to the top. You'll be able to appear above organic competitor listings, meaning more visibility for your brand. You can also appear on other sites across the web through Display ads, which will allow you to reach your target audience on sites they love and use the most.
Targeting
Keywords, demographics, placements, devices… PPC allows you to get your ads in front of your ideal audience using a variety of advanced targeting techniques, ensuring you only pay for users who are important and profitable to your business.
Insight
A key to any marketing campaign is measuring performance. With PPC, you'll be able to automatically measure a number of key traffic metrics, such as impressions and clicks, alongside key performance metrics, such as your return on investment. This is a great advantage over traditional marketing methods, such as print marketing.
Control
If you're closed on Sundays, you can schedule your ads to stop serving on Sundays. If you have a key message or promotion you need to push, you can tailor your ad copy to suit. PPC gives you full control over every single aspect of your campaigns, such as the time of day your ads are shown, or how much you'd like to spend each month.
Testing
If you're unsure of your most profitable audience or which keywords will drive action best, PPC allows you to test this. A/B tests are a great way to experiment and continuously optimise your campaigns, by splitting your traffic 50/50 and testing different variations, such as a different CTA. These can be set-up directly through your ads manager, such as Google Ads.
Cons of PPC
Cost
PPC results can be immediate, but that comes at a cost. To get started, you'll need an initial budget to act as an investment. In addition, every single ad click you receive is going to cost you money.
Effectiveness
Ad fatigue is real. People get tired of seeing the same thing over and over again, and that means you'll have to be on your A-game. Updating your ads with fresh copy and creatives will help maintain (or even boost) the effectiveness of your ads, but this requires some time to sit down and work on.
Time
Not only will you have to invest time into updating your ads, but there is a whole list of optimisation that if done on a regular basis, will help your ads perform to their maximum potential. This includes reviewing the search terms that your ads show for, as well as your targeted audiences. It's always important to remember that PPC is not a 'set-and-forget' marketing strategy, and does require some time investment to truly reach your campaign's potential.

What is SEO?
Search engine optimization (SEO) is the opposite of PPC. Instead of paying for each click to your site, each click is… free! If this seems like a no brainer to pick SEO over PPC, read on.
SEO involves a bunch of heavy work to really make an impact. From creating high-quality content to building backlinks, it's a full-time job for most businesses who are serious about their online presence. So why bother putting the time in? Well, the results of SEO can be great.
By building up an organic presence, you can eventually work your way up to the top of the search engine results page, and not have to pay a single penny for the thousands of clicks that could come from that.
SEO is a valuable, long-term strategy that should be considered by every business looking to boost their website traffic.
Pros of SEO
Awareness
If you truly manage to master SEO, you'll be able to help your site rank higher on the search engine results page. This means more awareness of your brand, more site visitors, and ultimately – more business.
Cost
SEO does not come under 'Paid Search'. It's absolutely free to rank your site on search engines such as Google, and organic traffic does not cost a penny. Do be mindful of the fact that if taken seriously, SEO may take a bit of initial financial investment, as well as a large investment of your most valuable resource, time.
Visibility
SEO does not have an on/off switch. Your site could always be shown on the Search Engine Results Page, even if you aren't ploughing time into it. This is different to PPC, where if you pause your ads, your paid traffic will stop completely, and you'll be relying solely on organic.
Cons of SEO
Time
SEO is not instant or quick by any means. It takes time, and sometimes a long time. This can be painful for many who expect instant results, but when you do finally see the site sessions creeping up, the initial work will be extremely rewarding.
Second to PPC
Even if you reach that number one organic spot, you can't beat a paid listing. One big advantage of pay-per-click is the ability to appear above the organic search results. This pass to the top enables paid listings to steal the initial limelight, and steal potential customers away from your organic listing
Difficulty
SEO is not easy. One well-written article (such as this one) is not going to score you a million page views overnight. You'll need link building, crawl-friendly pages, keyword research, focus phrases, a fast loading site with compressed imagery… the list goes on (and can get very complex). To throw an additional spanner in the works, Google (and other search engines) are always regularly changing their algorithms to determine which factors are most important for ranking too.
Competitors
You can't take the easy route and buy your way to the top with SEO. The chances are your biggest competitors will have a fully-optimised site, that ranks on the first page and seems impossible to beat.
PPC vs SEO Infographic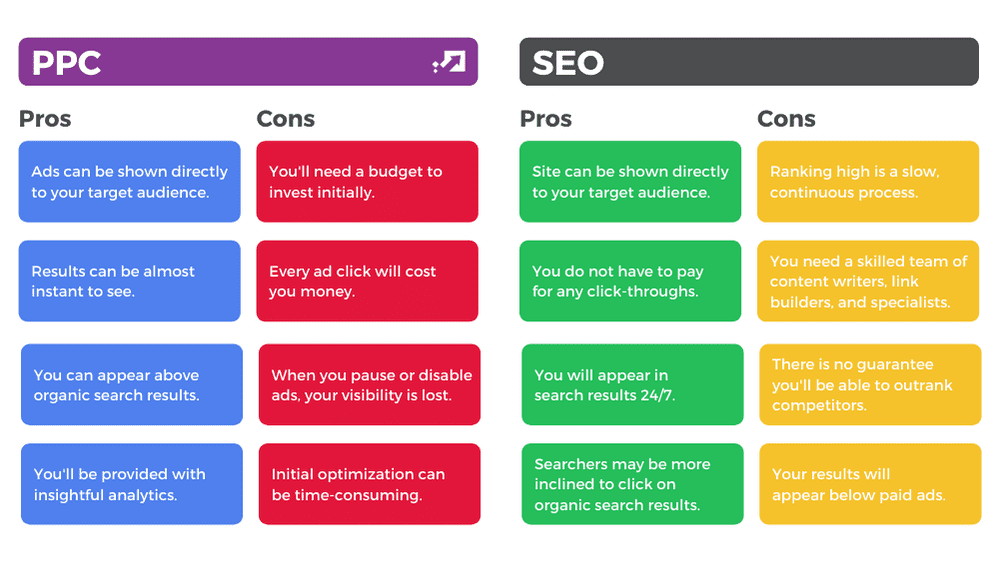 Our Thoughts
When it comes to Search Marketing, 'PPC vs SEO' is always a contended question. However, we don't think you should choose one over the other. Instead, we always recommend a combination of both strategies.
Well-optimised PPC campaigns alongside SEO-friendly sites will ensure you dominate that search engine results page, whilst maintaining maximum exposure. Pages that are optimised for SEO will also assist your PPC campaigns as your site experience will be user-first and easy to navigate, boosting that all-important conversion rate.
Sound interesting? We recently caught up with SEO master, Laurence Caro, who gave us an in-depth insight into how a dual SEO and PPC strategy can transform your business. Listen to our conversation with Laurence over on our podcast, The PPC Burrito, here.