Google introduced Discovery Campaigns as a brand new campaign type last year as a new way to help people discover and engage with brands as they scroll through their favourite content.
As consumers return over time to find content on the Google feeds that they enjoy, Discovery campaigns have been designed to give us more opportunities to drive action from people who know our brands best and are therefore most likely to engage with it again.
Having had a whole year to do some testing with Discovery Ads, we are seeing some pretty awesome results from this campaign type, particularly when used with warm Remarketing audiences.
In this article I'm going to tell you about the benefits of Discovery Campaigns, share some examples of the results you can get, and provide you with my top tips for testing this campaign type yourself.
The Benefits Of Discovery Ads
#1: They Give You Expansive Reach
You can reach up to 3 billion customers across a single campaign that pushes ads out across the YouTube Home and Watch Next feeds, Google Discover, and the Gmail Promotions and Social tabs.
Where Gmail campaigns were sunsetted last year, Discovery Ads are now the only way that advertisers can run ads on the Gmail placement.
Whilst Video Ads are still available to create on YouTube, if you don't have video content available, Discovery ads give you a new opportunity to get your ad placements on the 2nd most popular website in the world in prominent locations.
Google Discover showcases content on an individual feed that is primarily based on what Google's automated systems believe to be a good match with a user's interests based on their web and app activity.
As a highly personalised experience, Discover actively tunes itself to a user's interests and displays content that aligns with those interests. So if you're a movie buff, it will likely show you the latest film trailers, reviews, and perhaps a summary of the latest awards ceremony for example.
Previously called Google Now, People can find Discover in a few different ways, but do note it is only available on a mobile device, so if your website isn't mobile-friendly, then this isn't going to work well for you.
It can be found:
In the Google app
On your Android phone or tablet, in your browser on google.com
On some devices, swipe right from your device's home screen
#2: Richer Ad Creatives
With Discovery Campaigns you can produce more visually engaging and rich creatives that will all be rendered natively across the various Google properties, without the need for designers or coders.
Similar to the creation process with Responsive Display Ads, you can upload multiple images, and have the option to add more formats (Square, Landscape and Portrait), and this will allow Google to make the most of the creative canvas and the variety of ad placements available across the various feeds.
Google encourages users to use high-impact, high-resolution images to stop consumers mid-scroll, and to reuse imagery from existing successful media campaigns.
For the first time in Google, you can also create interactive Carousel discovery ads just like the ones on Facebook, allowing retailers to showcase multiple products, ranges, or messages across multiple cards.
Each card must have a square and landscape image uploaded, and you can point to different URLs on each card. There is a minimum requirement to do at least 2 cards for carousel ads, and a maximum of 10 can be created.
#3: They Lean On Machine Learning
Discovery Ads lean heavily on machine learning, which makes them a fairly low-maintenance campaign type.
You have to use automated bidding, and there is no option to manually control the bids. You can either use Maximise conversions, Target CPA, or Target ROAS bidding to tell Google to optimise your campaign bids to meet your media marketing objectives.
When using Discovery campaigns, you also won't be able to adjust various settings such as delivery method, device targeting, placement targeting (including exclusions), frequency capping, and ad rotation, as it's going to be leaning on its very clever machine learning to do all this for you.
Whilst the negative to this can be that you have to relinquish a bit of control, and lose some of the rich insights on this data that we advertisers have become very accustomed to. But we are continuing to see increased performance levels time and time again when we allow Google to make more of the decisions. that is as long as we're feeding it with the right data (more on this later), and that we are giving them realistic targets to optimise towards. As they say, the proof is in the pudding!
What results are we seeing from Discovery Campaigns?
As a part of the launch, Google shared a case study of a business that saw Discovery Ads "deliver positive performance further down the funnel with up to 48 percent lower cost-per-action compared to social ads".
It's interesting that they too choose to highlight results from using Discovery for bottom of the funnel targeting. Whilst this article is focusing how Discovery Ads can help scale up your Remarketing efforts, I would like to say that Discovery campaigns can also work for acquisition marketing activity too, it's just we'd recommend starting off with enhancing your remarketing activity with Discovery Ads as your first step.
OK, so what about those results? My first example comes from a client we worked with in Q4 last year, that manufactures a product that is popular for gifting.
They wanted to invest more in some top-of-funnel advertising with Display ads, combined with an increase in Remarketing activity to nurture and convert these first-time visitors into new customers.
We launched some new Display remarketing ads, along with some Discovery remarketing ads to the same audiences and these were the results.
| | | | | | | | | | | |
| --- | --- | --- | --- | --- | --- | --- | --- | --- | --- | --- |
| Campaign Type | Impressions | Clicks | CTR | Cost | Avg. CPC | Conv. | Revenue | Conv. Rate | Cost/Conv | Cost%Sales |
| Display Remarketing | 246,045 | 2,580 | 1.05% | £667 | £0.26 | 9 | £529 | 0.28% | £74.15 | 126% |
| Discovery Remarketing | 37,633 | 825 | 2.19% | £685 | £0.83 | 20 | £1,326 | 0.49% | £34.26 | 52% |
Key Takeaways:
The reach on discovery ads is lower than that of traditional display ads
The average CPC was higher for the discovery. We were using manual CPC bidding on the Display remarketing and kept the bids very low, whilst Discovery was optimised to max.conversions
Click-through rates were much higher on the Discovery Ads
Conversion Rates were better on the Discovery Ads – and we were able to make profitable direct sales here, unlike on the Display Ads, where the cost per conversion was double.
Should add that they were importing conversion data from Google Analytics, so tracking view-through impact was not possible here.
So the point I'd like to raise here is that even if traditional Remarketing hasn't worked for you in the past, Discovery is worth testing. With Discovery we were able to showcase far more product lines than we had been able to previously through the carousel ads. The carousel ads had a 1.90% conversion rate and cost/conversion of £17.62, whilst the standard discovery ads had a conversion rate of 0.43%
Another example here is a client that had a Display Remarketing campaign that was already working effectively to bring cart abandoners back to the website and buying.
They sell highly specialist lights that have a specialist price point attached to them too.
We replicated the same strategy in terms of remarketing segments, images, and messaging that were already having success on the Display network, but with Discovery, and these are the results.
| | | | | | | | | | | |
| --- | --- | --- | --- | --- | --- | --- | --- | --- | --- | --- |
| Campaign Type | Impressions | Clicks | CTR | Cost | Avg. CPC | Conv. | Revenue | Conv. Rate | Cost/Conv | Cost%Sales |
| Display Remarketing | 1,248,622 | 3,988 | 0.32% | £4.6k | £1.16 | 56 | £16,984 | 1.39% | £82.79 | 27% |
| Discovery Remarketing | 41,988 | 622 | 1.48% | £743 | £1.19 | 11 | £3,926 | 0.56% | £67.56 | 19% |
Key learnings:
Again we found the overall reach to be lower, but The click-through rate higher
The average CPC was only marginally higher this time, as we were already using automated bidding for the Display Remarketing activity (though they were using target ROAS, whilst the Discovery utilised Max.Conversions).
The conversion rate was lower, but overall the Discovery ads had a lower cost/conversion and lower cost%sales, making them more profitable.
The addition of Discovery into the strategy has helped add nearly £4k worth of direct sales to the client's sales revenue this year so far, with an additional £4k worth of view-through sales on top.
Tips For Testing Discovery Campaigns
By now I hope you're keen to give Discovery campaigns a try, so let me finish up this article by giving you my top tips to help make those campaigns run as effectively as possible.
Check your conversion tracking is set up correctly – Where Discovery relies on automated bidding you need to make sure the key conversion is tracking accurately and being counted in your conversions. Without accurate data, it's not going to be able to accurately optimise spend towards achieving your desired goals.

Allow 2-3 weeks for a 'Learning' period before making new changes. This is required to give the campaigns enough time to learn and optimise. After you make a change to your bid strategy, there may be minor performance fluctuations as Google Ads optimises your bids. To indicate this, your bid strategy status may be labelled as 'Learning'. You can hover over the status to see why your bid strategy has the 'Learning' status. It's recommended that you allow two weeks for the 'Learning' period to elapse before making bidding changes

Understand and consider your conversion attribution windows. This is important as you may need to account for conversion delays. Some conversions take more time than others, in some cases up to days or even weeks. If you compare recent performance with past performance, your recent performance might not look as strong because of conversion delay.

Consider that a number of factors may affect your results over a period of time. Your results may be affected by holidays, weekends, special events, changes to your feed, and your competitors in the auction.

Just because a lot of the optimisation is automated doesn't mean you should set and forget these campaigns. Make sure you are reviewing performance and monitoring the reports that are available to enable you to make key decisions about how to optimise your Discovery campaigns after launch.
I recently did a talk about this very subject at the eCommerce Masterplan virtual summit. If you would like to hear more about this topic, and my tips about building segmented remarketing audiences to use for both Discovery and Display Ads, you can watch the replay of this for free here – https://summit.ecommercemasterplan.com/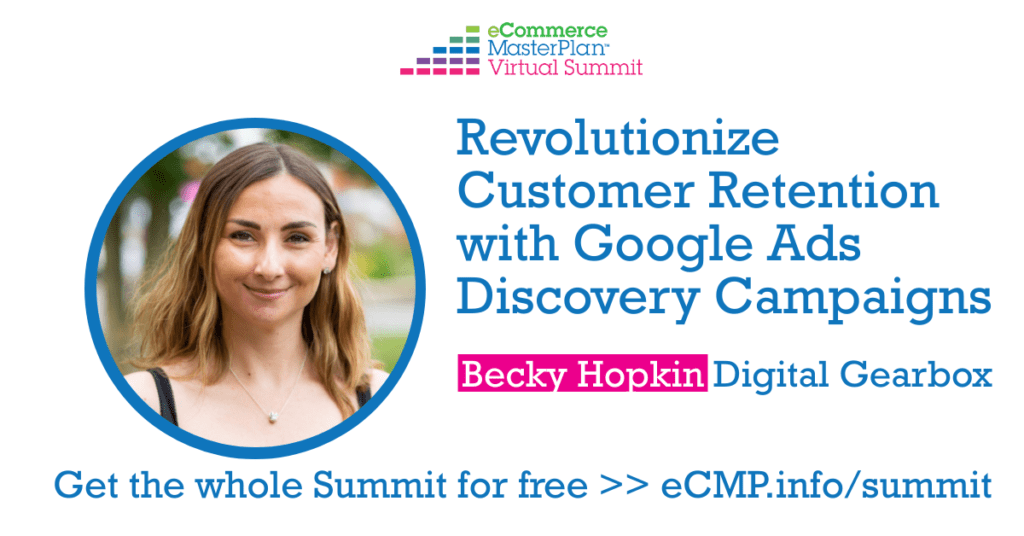 If you'd like to discuss Discovery with us, and get the inside track on best practice, then feel free to Get In Touch.